SCHIEDMAYER DOMINATOR / SCHEOLA DISCOVERY LIST
Bonjour à tout le monde,
je m'excuse pour tout les messages en anglais, j'éspère de les traduire très rapidement.
For now, I will continue in english.
Some weeks ago people on the forum got the idea to start listing all remaining Mustels. This idea made me try to do the same thing for the
Schiedmayer dominators and scheolas.
For the moment I have collected pictures and information of about 25 instruments. What stroke me is the fact that not a single instrument is identical to another!!!
Almost each instruments differs somehow from what is written in the catalogues. That's why I would like to share my discoveries in this post with those who are interested.
To clear things up before we start:
Schiedmayer produced many different dominators (=harmonium or harmonium-celesta) and scheolas (= harmonium or harmonium-celesta + roll player)
All models have names derived from famous composers
All models are kunstharmoniums in the way that they have fortes expressifs, fortes fixes, metaphones, prolongements and double expression.
you have the harmoniums, from small to big:
model
Gounod
: 6 4 2 1 1p - 1p 1 2 4 8
model
Bizet
: 6 5 4 2 1 1p - 1p 1 2 4 5 6
model
Verdi
: 6 5 4 3 2 1 1p - 1p 1 2 3 4 5 6 8
model
Rossini
: 7 6 5 4 3 2 1 1p - 1p 1 2 3 4 5 6 7 8 9
you have the harmoniums with roll-player:
model 1* (=Bizet): 6 5 4 2 1 1p - 1p 1 2 4 5 6
model 2* (=Verdi): 6 5 4 3 2 1 1p - 1p 1 2 3 4 5 6 8
model 3* (=Rossini): 7 6 5 4 3 2 1 1p - 1p 1 2 3 4 5 6 7 8 9
*these models are also called model "
Brahms
"
you have the harmonium-celesta's
model
Wagner
: 7 6 5 4 3 2 1 1p - 1p 1 2 3 4 5 6 7 8 9
model
Strauss
:
8
7 6 5 4 3 2 1 1p - 1p 1 2 3 4 5 6 7 8 9 <= this model has 69 keys, A to F
and finally the harmonium-celesta's with roll-player Mustel made only one of these called "Grand Concertal"
model
Palestrina
8
7 6 5 4 3 2 1 1p - 1p 1 2 3 4 5 6 7 8 9
So here are my discoveries
Discovery 1
: Some instruments have additional prolongements. these 2 extra prolongements at the right of the keyboard operate the tenor register c-e and the complete treble side f-c.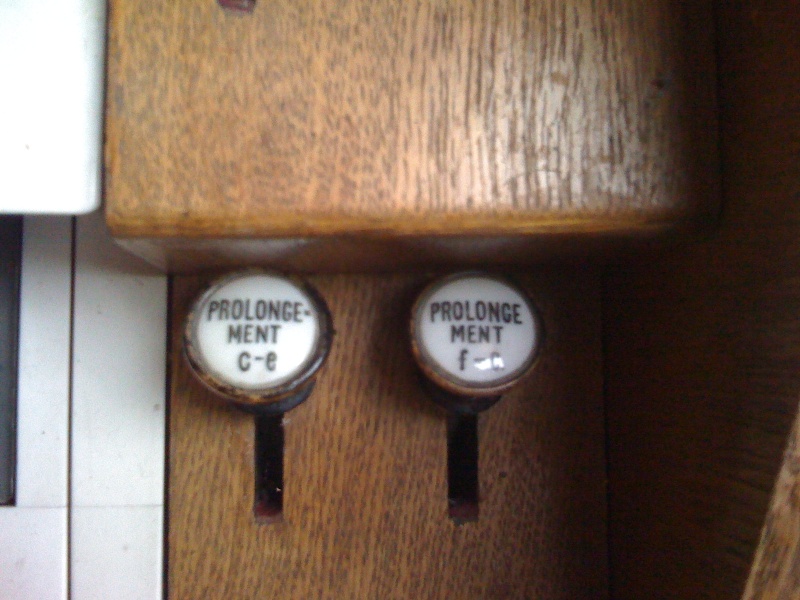 As there is no place for additional heel-levers to release these prolongements, big push-buttons are found in front of the keyboard to release them: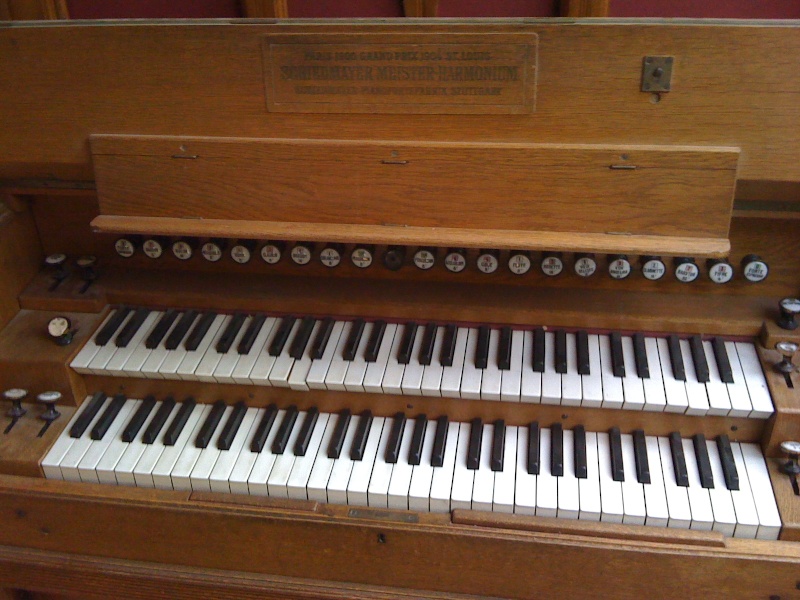 Discovery 2
: On the older instruments you see the name tag : "Meister Harmonium" instead of Dominator (see picture above)
Discovery 3
: Some instruments have a scrambled order of registernumbers, sometimes only on one side, other times on both sides.
These is meant to facilitate the drawing of common combinations. examples: 3+7, 1+4, 5+6
The next picture shows a scheola model Palestrina, notice the order 3 6 8 5 4 7 2 1 1p - 1p 8 4 1 5 6 9 2 7 3 (instead of 8 7 6 5 4 3 2 1 1p - 1p 1 2 3 4 5 6 7 8 9)
Discovery 4
: Some model Wagners have the 8th register in the bass (Undamaris 8') which is normally only found on the bigger model Strauss. Notice that all models Palestrina have this register too although they have only 61 keys like the model Wagner.
Both Wagner, Wagner with 8 undamaris and Palestrina (which has the 8 undamaris too) have the same amount of reeds!!! read the next discovery to find how this is possible.
Discovery 5
: Most Palestrina's and Wagners-WITH-this-register-8-in-the-bass seem to have a limited version of register 6 (violon 16') working only for 1 octave!!!
first some explaning:
The Schiedmayer dominators and scheolas have special switches for the registers 2, 5 and 6 in the bass. These switches are normally located right above these registers and let the register only sound in a part of the bass side.
You don't have to pull the normal stop knob, you can just press these little switches down and the register in question will sound in the dedicated range.
with kind permission of harmoniumnet.nl: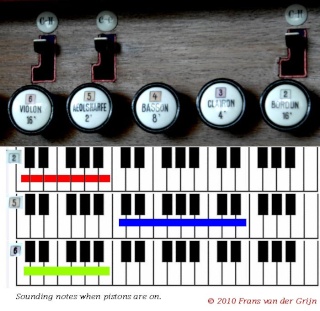 This all is to have for example the heavy bass sound of the 16 foot stops (nr. 2 and nr. 6) only in the lowest octave, as they might sound muddy in a musical context when played higher,
Another example: you can now exclude the very high sounding 2 foot stop (nr. 5) in the lowest octave where the bass-sound might be disturbed by this high sounding register.
BUT!!
have a look again at the picture of "discovery 3":
the 6 violon 16' is located left of the switch (instead of below it) and there's no way to have this register in normal mode as it's porcelain is just glued to the wood of the backplate
instead of on a stopknob. You can only activate it with the switch "C to H" which makes it only sound in the lowest octave.
Another example (which is even more strange) is this instrument (a Wagner WITH register 8 ):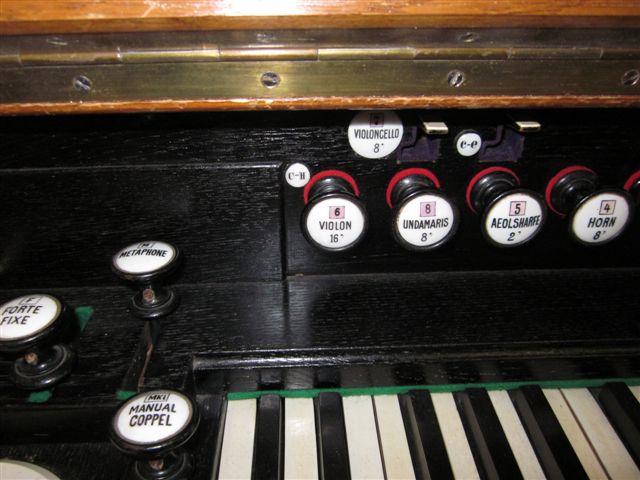 ..this time the registers are not completely scrambled, their order is logical from 1 to 5, but at the end 6-8 thing get weird again..
..the register 7 is glued to the wood, what is going on???
Well, take look at register 6, unlike the previous example it now has a normal stopknob but there is the indication C-H, so again it works only in the lowest octave.
register 7 should have had a normal stopknob but somehow they used one of the smaller switches for this register...it looks very strange..
Normally the model Wagner has no register 8 in the bass, it seems like Schiedmayer did it's best to include it without using new stop knobs...
Each instrument with this smaller nr. 6 does also have a smaller nr. 8 because these reeds are located in the same chamber: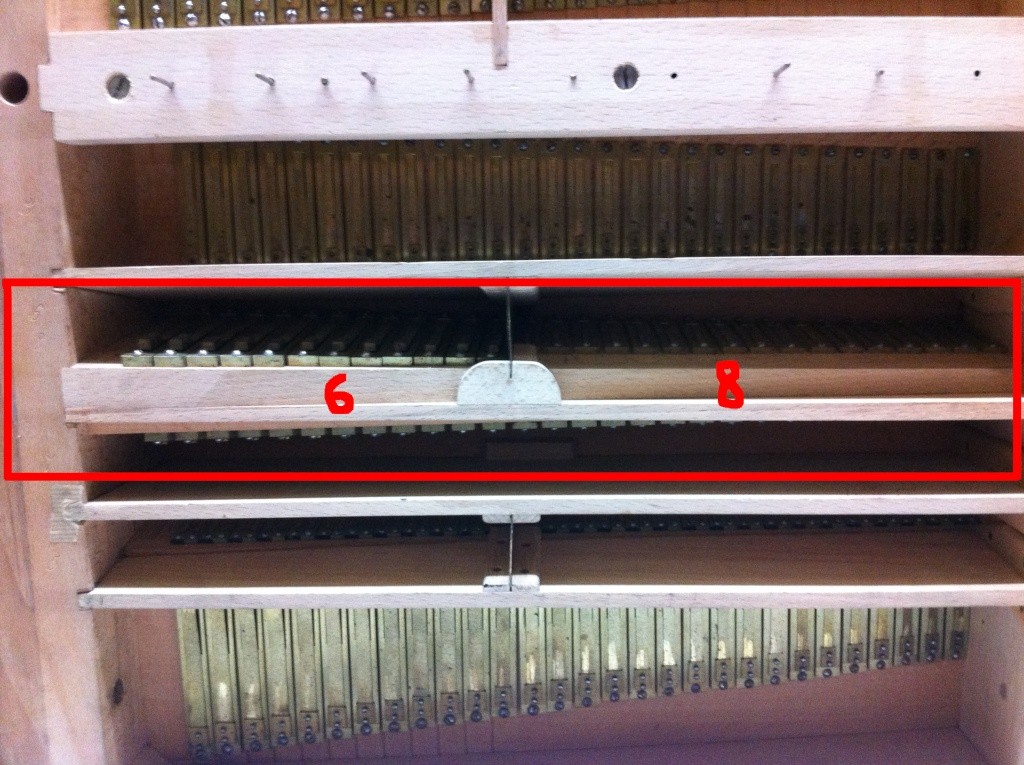 !!! Therefor the wagners, wagners with undamaris, and Palestrina's ALL have the same amount of reeds!!! 616
The Wagner has a complete rank of nr. 6 in the bass. The Wagner with undamaris and the Palestrina have the 6 in the lowest octave, and the 8 in the 1 1/2 octave above this lowest octave.
...a very rare
EXCEPTION
is this instrument, a model Wagner but with a 4th switch for register nr. 7, this harmonium has 645 reeds: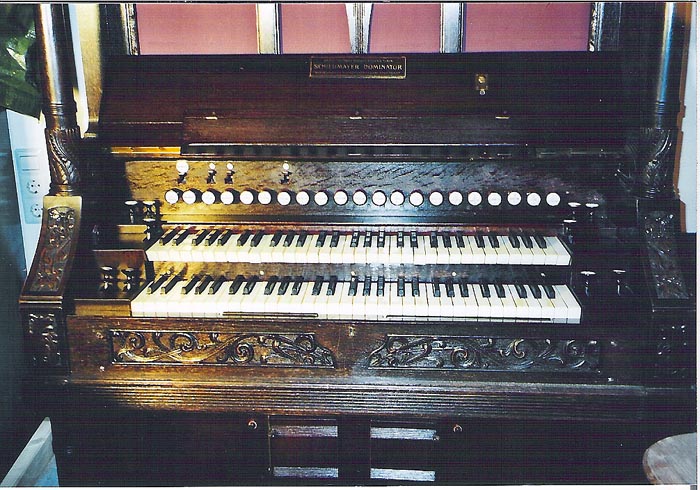 next to this exception, ONLY the model Strauss seems to have a complete nr. 6 and nr. 8 wich gives a total of 732 reeds! (due to the 69 keys)
Notice that the celesta in this instrument has a range of 5 3/4 octaves! just like the big orchestral celestas they make today.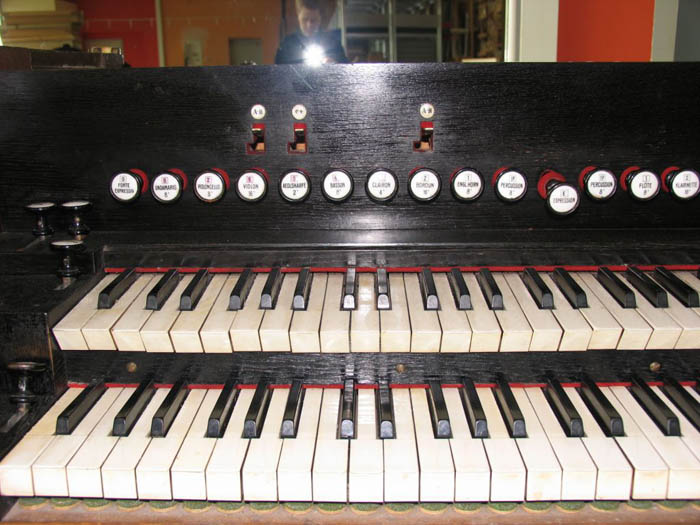 Discovery 6
: Some instruments have double forte's which are both operated by the forte expressif: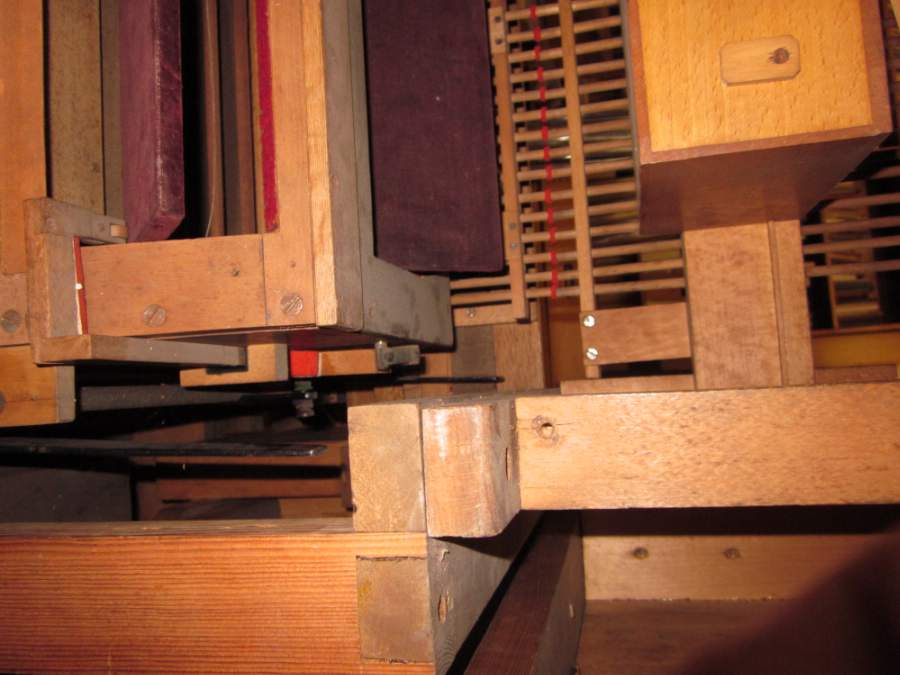 It looks like it is found on the earlier models, but I'm not sure if this is a correct presumption.
Discovery 7
: The registers 4 and 7 in the bass have often different names.
On the earlier instruments (around 1910-1915) you see:
4: Horn
7: Basson
On the later models you see:
4: Basson
7: Violoncello or Cello
Mind that "Basson" is used for both registers!
In his "Universalschule für Harmonium" Paul Schmidt always refers to register 7 as "4b". These two 8 foot stop have a likewise soundquality.
Thoughout his 3 volume book he speaks of 4a and 4b. Notice that these 2 registers are located next to each other on instruments with scrambled registernumbers!
You can see this on the model Palestrina in "discovery 3 & 5"
Discovery 8
:
On some instruments you find a porcelain with the model's name. I don't think it was to be found on later models
Discovery 9
:
On some Palestrina's the celesta seems to be located behind the roll mechanism, instead of above it. This way the instrument can be made a whole
lot lower: 1m80 instead of 2m80.
Here's a picture of an example: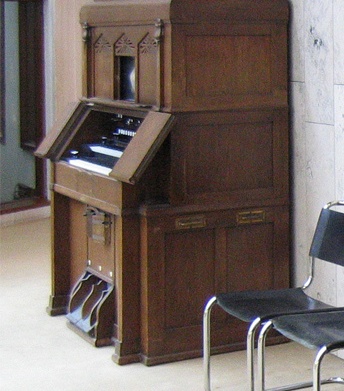 this instrument has 2 manuals so it clearly has the celesta.
There were many different cases for these scheola's and they all had names like "Parsifal", "Tristan" and "Amforias", all of these names seemed to be related to Wagner's opera's.
The model Palestrina is in fact a model Wagner with a roll-player
So far, I have never seen or heard of a model Strauss (69 keys) + roll-player.
Discovery 10
: On some instruments the little porcelain next to the small switches says "c-h" instead of "C-H".
It's a very small difference but I did notice it
for an example of this porcelain in capital letters suggesting the right octave position see pictures above.
Here's a picture showing small letters (not original?)
Discovery 11
: There were 2 models of the right heel:
model 1 is just the same heel lever as the other 2
model 2 differs from the other heel lever:
Discovery 12
: changes concerning the porcelains for the heel levers:
on some instruments there are no porcelains for the heel-levers, this seems to be original as they are also featured in the catalogues.
On the instrument with the porcelains you can find this very small difference: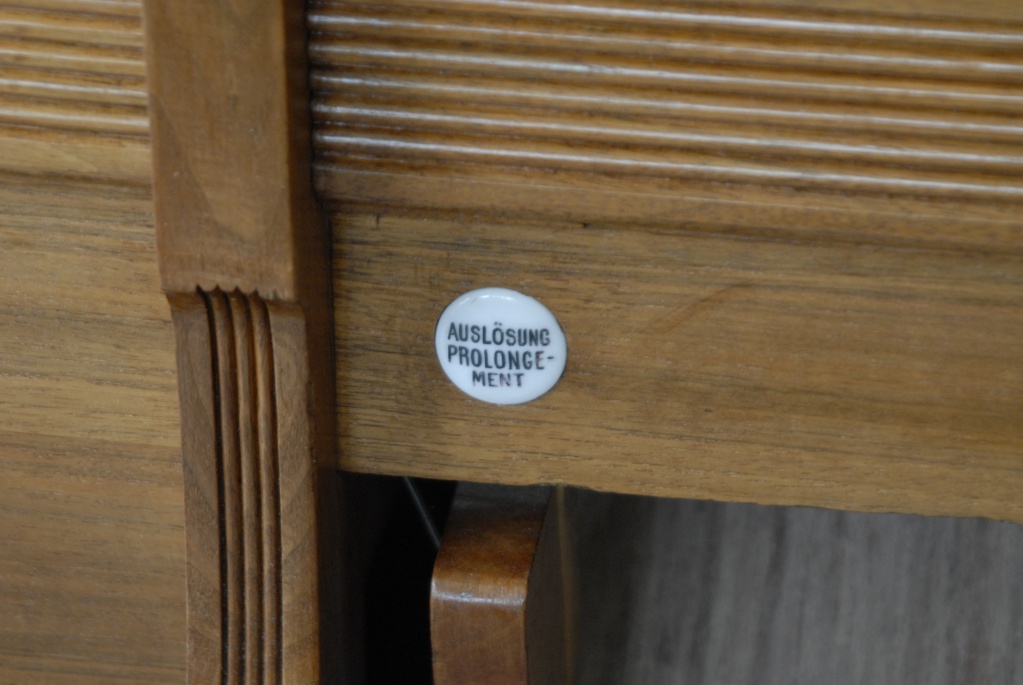 It's hardly noticeable, but it's there
Discovery 13
: Some instruments have the option "doppeltastendruck". This option makes the keys velocity-sensible: if you press the keys softly only the registers
lying in the back will sound = sharp sounding registers. If you press the keys all the way down all registers will sound (also the warm sounding registers in the front)
Actually this feature is in some degree present on all harmoniums.
Discovery 14
: on some instruments (later instruments) the 1p only activates the percussion mechanism, if you want to hear the 1 as well you have to pull the 1
There's a good and a bad side of this choice:
good: you have the percussion to use on nr. 4 or nr. 8 instead of always nr. 1
bad: each time 1p is written in the score you have to pull 2 knobs instead of 1
Discovery 15
: 2 manual Suction Dominator harmonium-celesta
Without mentioning names, I know someone who bought a big dominator some years ago, When he got home,
he was very upset to discover that his Schiedmayer harmonium-celesta turned out to be a
suction
instrument..
He told me that he thinks Schiedmayer made it for a special occasion and that they were never build in large amount..
Discovery 16
:
Today I received a new catalogue dating 1928..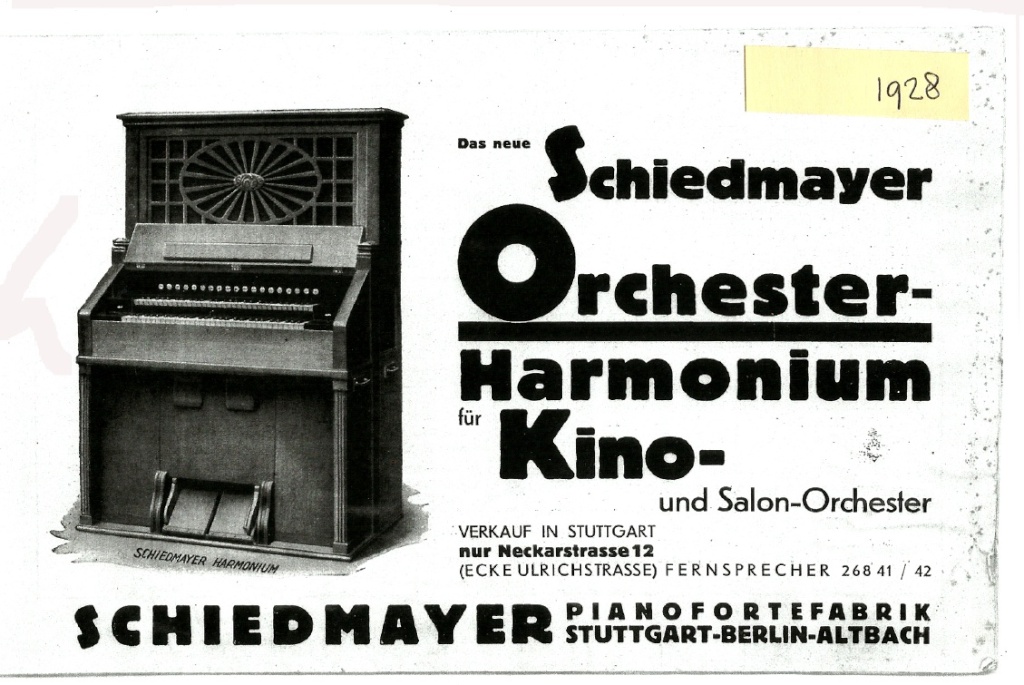 First I would like to point out that this instrument is never called a dominator, but it looks very alike.
The catalogue mentiones 4 models:
-155 P.C. Normal (5 spiele)
-155 P.C. Doppelexpres​sion(5 spiele)
-155 P.C. Erweitert Normal (6 1/2 spiele)
-155 P.C. Erweitert Doppelexpres​sion(6 1/2 spiele)
So,..
-All models have 3 heel levers (unlike the picture on the title page..) These 3 heel levers have the same function as the dominator/Scheola series: prol.ausl. / GJ / Celesta ped.
-All models have knee levers but on 2 models these only control the fortes...the 2 other instruments do have doppelexpression.
There are all pressure harmoniums (teilung e-f), but not kunstharmoniums.
Schiedmayer was still building the "real" dominators as well. Here's one built in 1929::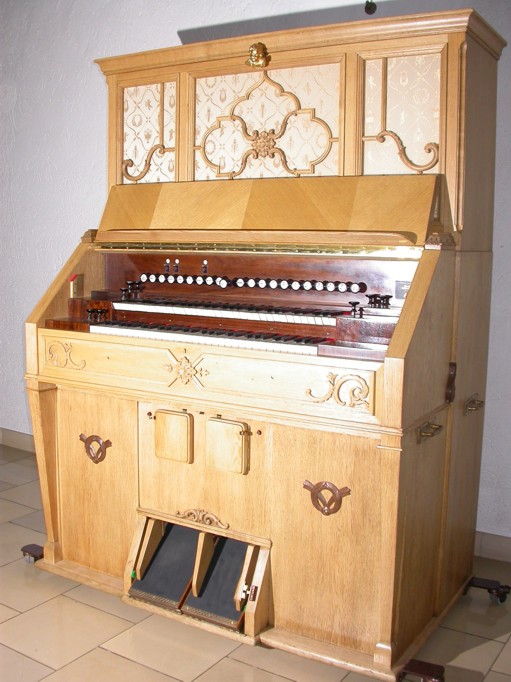 Thanks to Frans van der Grijn I now know that these Orchester-harmoniums were already produced since 1911! They seem to be as old as the dominator / scheola series.
Although most registers on these Orchester-harmoniums have the same name there are some differences (and similarities):
similarities:
-they have the same "look": 3 heel levers, 2 knee levers, celesta, prolongements etc.
-they have perkussion, this time spelled with a "k" instead of "c"
differences:
-no metaphones nor forte expressifs, they only have the regular fortes
-other register names
overview of the 6 1/2 spiele:
left:
1p Perkussion 8'
1 Englisch Horn 8'
Piano 8' (= sourdine!! not available/needed on the doppelexpressionmodel)
2 Bourdon 16'
3 Clairon 4'
4 Cello 8'
5 Undamaris 8' (only available on the 6 1/2 spiele)
6 Fagott 16' (= 6 violon 16'?)
Sb. Subbass 16' (C-h)
Vb. Violonbass 16' (C-h)
right:
1p Perkussion 8'
1 Flöte 8'
Piano 8' (= sourdine!! not available/needed on the doppelexpressionmodel)
2 Klarinette 8'
3 Fifre 4'
4 Oboe 8'
5 Aeolsharfe 8' (only available on the 6 1/2 spiele)
6 Schalmei 16' (= 5 musette 16'?)
These instruments don't have 2' and 32' either. They were clearly used for cinema's (Kino) etc.
6 1/2 spiele is not that much compared to the 10 spiele of the model Wagner/Palestrina and the 10 1/2 spiele of the model Strauss.
Unfortunately no prices are mentioned in the catalogue.
Many thanks to forummember Frans van der Grijn from harmoniumnet.nl and forummember HarpeEolienne for the documents!
Discovery 17
: Registrations were printed on the Scheola rolls!
If Mustel and Aeolian did the same is a mystery to me as nobody seems to be posting pictures of those rolls. I'm glad I found a reason to post this marvelous picture,
it's quite "dominating" although it's not a dominator but a scheola